Home>Products>GARLIC NEWS>Chinese Antique Ding Ware Garlic Head Vase with Incised Pattern
English
Chinese Antique Ding Ware Garlic Head Vase with Incised Pattern
Antiques

follow your demand

Negotiation

$279.98

paypal,UnionPay, Visa/MasterCard, Amex, Discover,T/T
Alvin2020-07-10 09:46:19

Welcome to my shop! Glad to serve you! Please send your question!
Product Details
| | | | | | |
| --- | --- | --- | --- | --- | --- |
| Type: | Vases | Region of Origin: | China | Primary Material: | Porcelain amp; Pottery |
Product Description
CarvingBooks about CultureBrassBronzeCalligraphyEnamelEpigraphy and Stele4 Treasure of the StudyFurniture and WoodwareGlass WareGold & SilverJade CarvingLacquerwarePorcelainPotteryPainting scrollPainting albumSilk & FabricStone CarvingOther
Home
Song Dynasty Ding Ware Garlic Head Vase with Incised PatternChinese Antique Ding Ware Garlic Head Vase with Incised Pattern279.9839.98
Image gallery (click and see the details)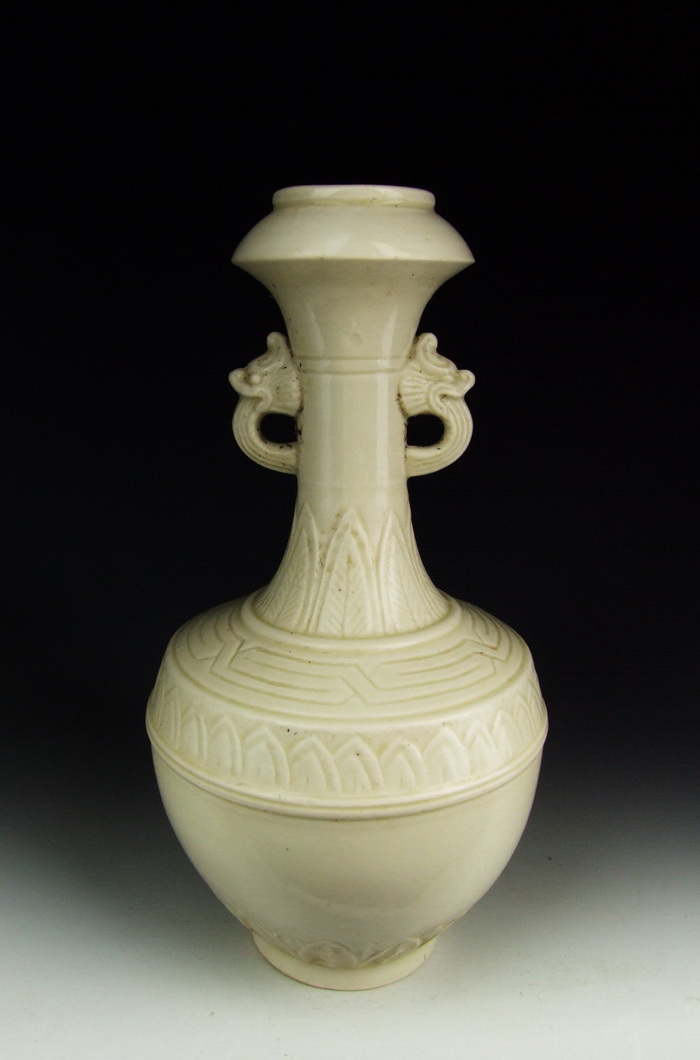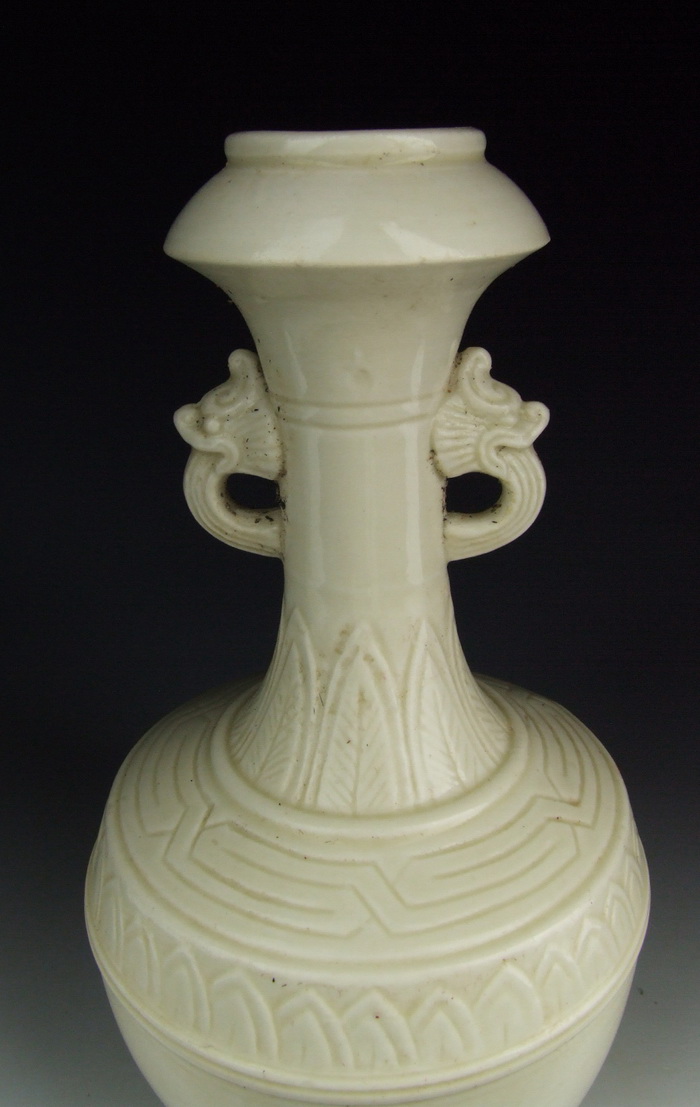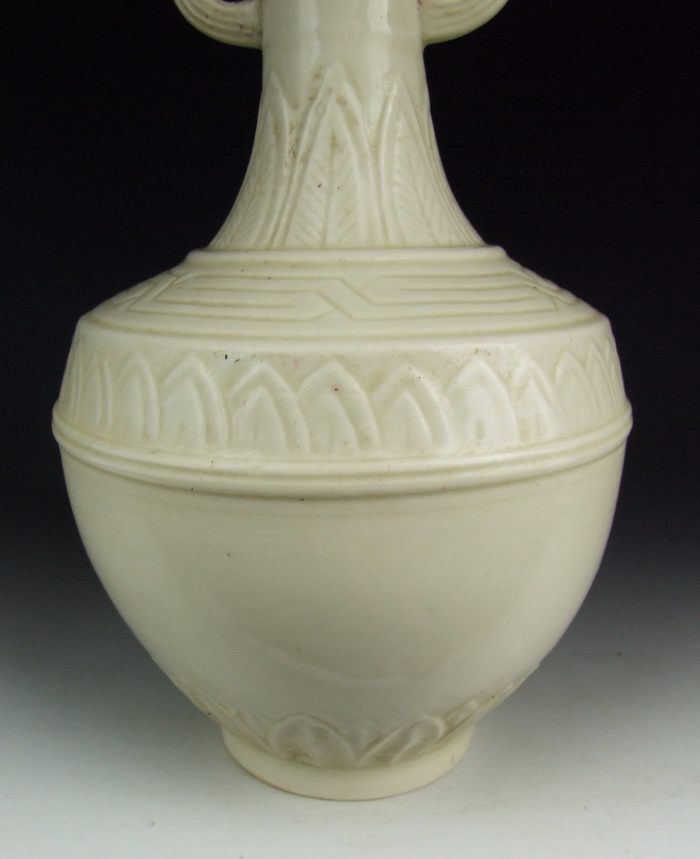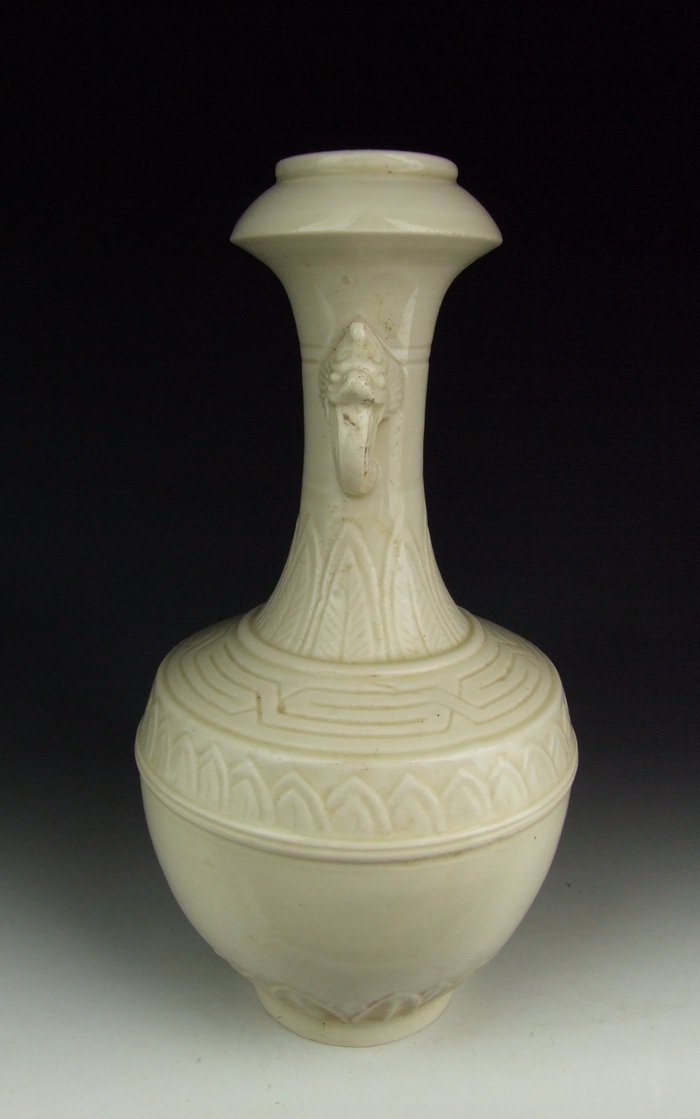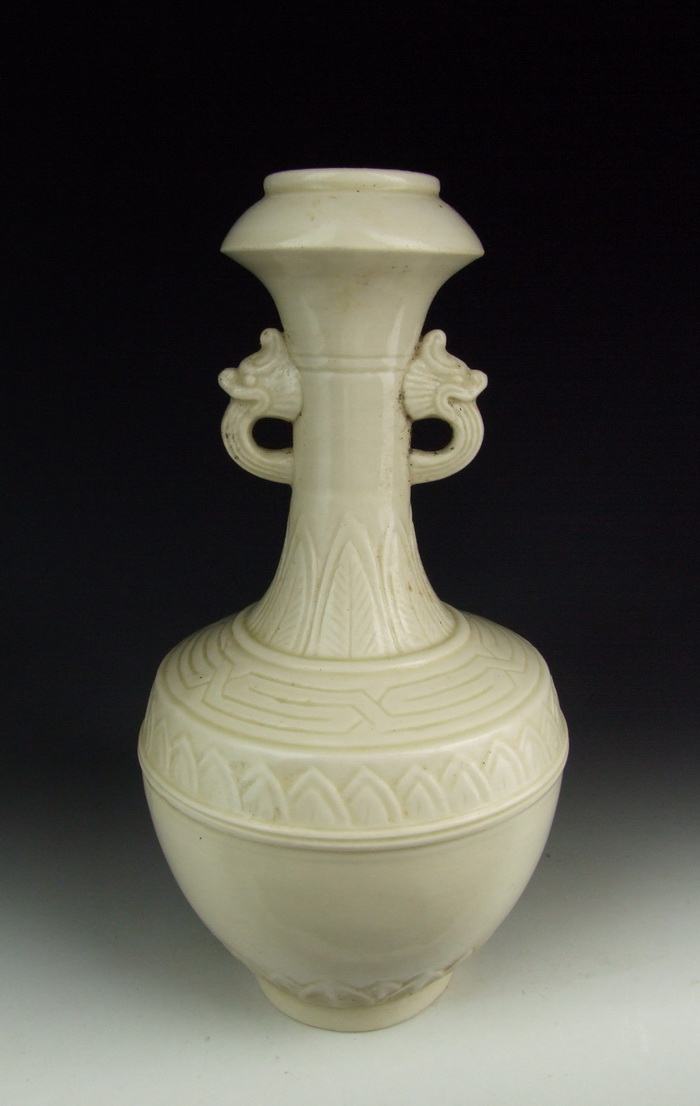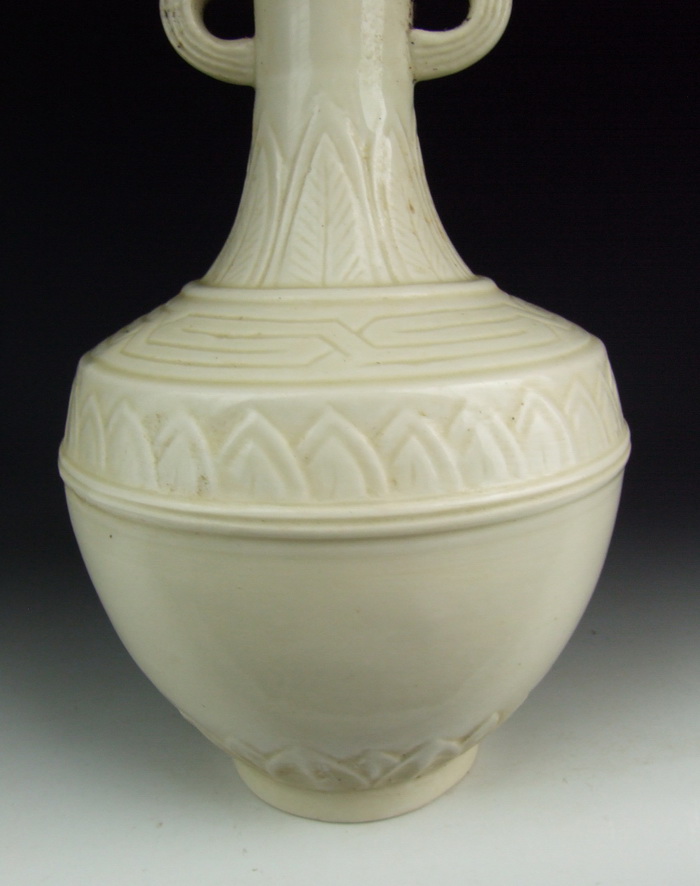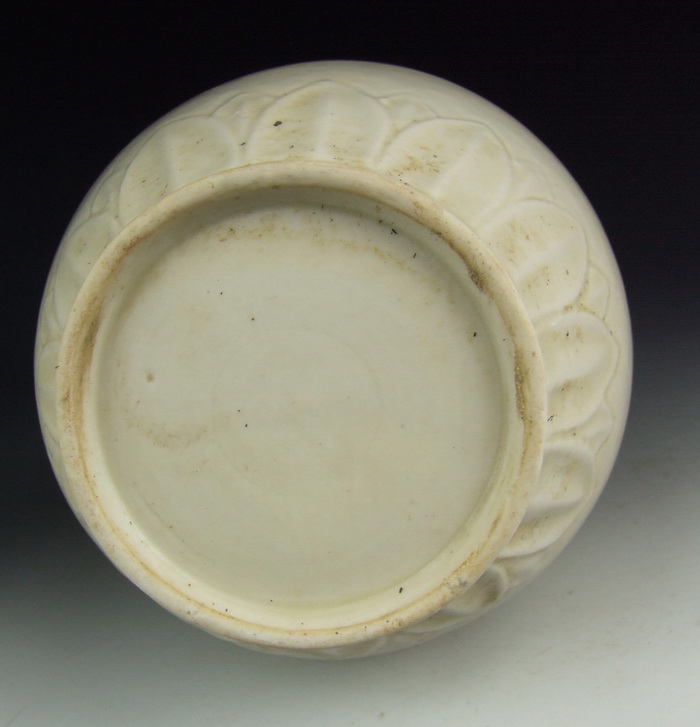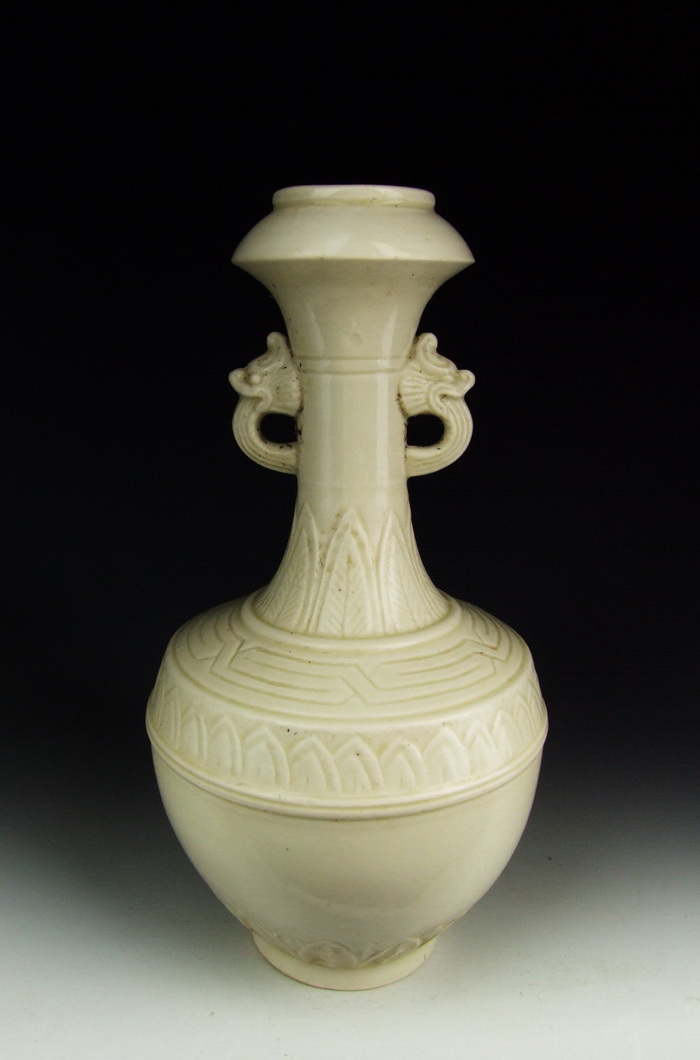 Item Description
here is one Ding Ware Garlic Head Vase with Incised Pattern.
Height: 25 cm, width: 13 cm, Weight : 1.2 lbs,Condition : good,
origin:Art&Culture of Ding KilnClick here for detailsClick here for Ding Ware Porcelain ReferenceBasin, Northern Song dynasty (960-1127), 11th-12th century; Ding ware
Probably from the Jianci village kilns, Hebei Province, China
Porcelain
The highly aesthetic, placid, and introspective atmosphere of both the Northern and Southern Song dynasties is reflected in the quiet elegance of ceramics in the classic court taste. Forms are simple and basically uncomplicated, while designs, when used, seldom intrude but are content to be investigated at the viewers leisure. There is literary evidence that the white porcelains known as Ding ware were among those supplied to the Northern Song court, and the beauty of this basin illustrates why Ding porcelains would have enjoyed imperial favor. Delicately potted and enrobed in a mellow -white glaze, it has a free-flowing, finely carved design of lotus and sagittaria sprays that epitomizes the Song penchant for unobtrusive decoration. Ding wares were usually fired on their unglazed mouth rims, probably to prevent warping, and the rims were very often capped with metal, as in this example.">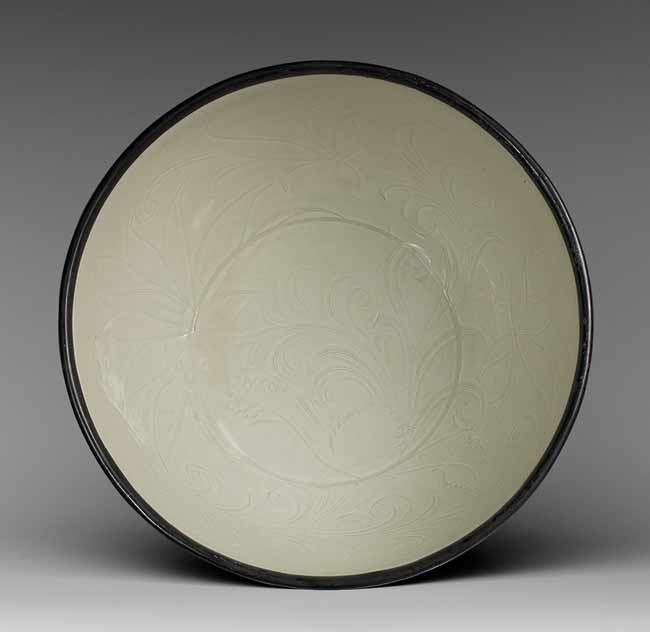 Bowl
From Hebei province, northern China
Song dynasty, late 11th - early 12th century AD
Intricate, moulded decoration
This bowl was produced at the Ding kilns in Hebei province, northern China, whose white porcelains were considered one of the five great wares of the Song Dynasty (AD 960-1279 AD). The others were called Ru, Jun, Guan and Ge wares. Ding wares were sent to the Imperial court as tribute as early as AD 980. Early Ding wares were fired in separate saggars, with each piece having been incised individually. In the late eleventh or early twelfth century, they began using moulds for decoration and stacked the pieces for firing, which allowed mass production. The decorative effect differs greatly between the early and the later examples. The decoration on this bowl is a good example of the later, moulded type. Children play among lotus flowers, a common motif in Chinese ceramics, paintings and textiles. The moulds became less crisp with repeated use, but this appears to be one of the first impressions, as the decoration is still very clear.The metal band around the mouth is made of a copper alloy. Apart from its decorative use, it also smoothed the rough, unglazed rim.">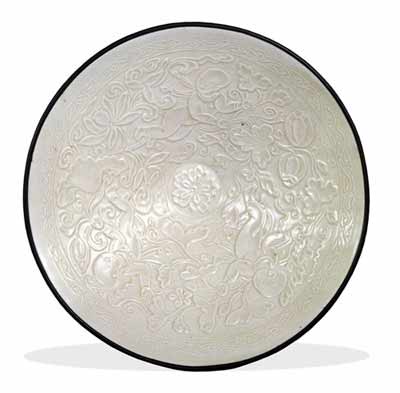 Yuhuchun Vase
From Hebei province, northern China
Song dynasty (11th-12th century AD)
Connoisseurs include Ding wares among the five great wares of Song-dynasty China, along with Ru, Jun, Guan and Ge. They were made at the Ding kilns in Hebei province in northern China, from the eighth century until the thirteenth or fourteenth century. They were popular in the imperial palace in the Northern Song period (AD 960-1126), which was the high point of their production. Ding wares are characterized by a finely potted, lightweight body and a warm, elephant-tooth-coloured glaze. The most common shapes are bowls and dishes. Early Ding wares were decorated by incising, but in the late eleventh and early twelfth century, potters began to use moulds, which allowed mass production. This vase is a comparatively rare shape for Ding ware, because it was difficult to make the neck so long and slender. Similarly-shaped vases based on silverware forms were also produced at the Ru and Guan kilns during the Song dynasty (AD 960-1278). Elegance of form and subtlety of glaze were hallmarks of imperial taste at this time.">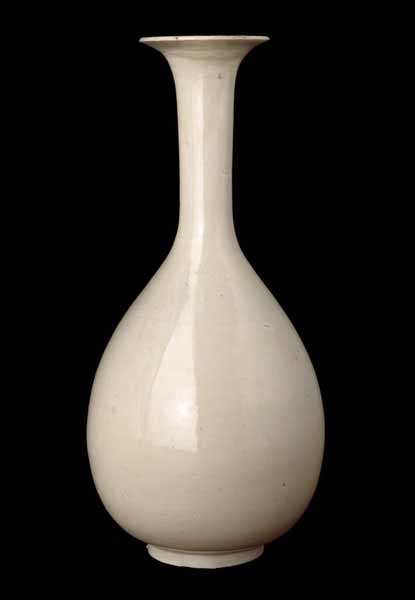 Phoenix-head Vase
Probably from southern China
9th-11th century AD
This white porcelain ewer, or pouring vessel, is considered to be the among the most remarkable of all Chinese ceramics. No closely comparable pieces have ever been excavated, and there is much debate about exactly where and when it was made. Some features of the decoration can be seen on ceramics produced in northern China: tall vases with lined necks and simple phoenix heads have been found in Liao territory. This ewer had a spout (where there is now a hole), but does not seem to have ever had a handle, so its vase-like shape may point to a northern origin. On the other hand, the Xicun kilns in Guangdong province in southern China produced sculptural phoenix heads. Sharply incised and combed designs combined with stamped rings, as on the ewer, are typical features of Xicun wares, though generally of poorer quality than this. This exceptional piece, then, remains something of a mystery. It is known, however, that phoenix-headed ewers were already used during the Tang dynasty (AD 618-906), and this one may be from as early as the ninth or tenth century.">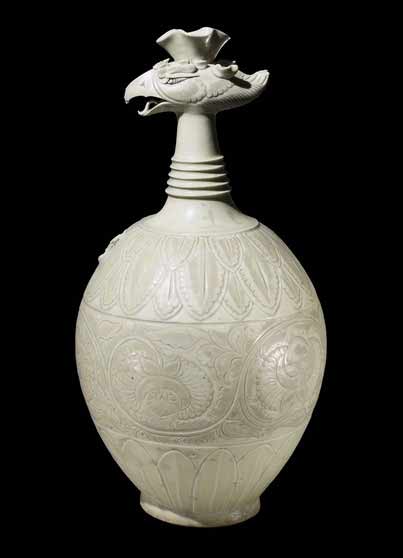 Ding Ware White Ceramic Pillow in the Shape of a Child
Northern Sung period (960-1126)
Height: 18.8 cm, diameter at base: 31 x 13.2 cm
During the Tang dynasty, most ceramics pillows either had a tri-color glaze, or were glazed brown, black, or a Chang-sha bronze color. At the time, too, there were only two basic types, one used to sleep on, and one on which for taking a pulse. By the Song dynasty, there was a greater variety of designs, including one made especially to be buried with the deceased. The variation extended to size and style, but also to the kind of decoration, which usually implied some auspicious meaning. This example, in the form of a child playing, was for general use. The design is both life-like and alluring, with the child, clearly in excellent health, wearing a suit of clothing including a long brocaded top, lying on a mattress, legs crossed behind. The National Palace Museum in Peking has a very similar example, but it lacks the detail in the childs clothing this one has. The front and back of the pillow were made separately, mold-pressed and then put together before firing. After they had been put together, the facial expression and details on the clothing were carved. The base is flat, with a round hole cut into the left and right sides to allow air to escape during the firing process, preventing the piece from exploding in the kiln. The glaze is elephant-white white with a hint of gray. As Ding ware was fired using charcoal as fuel, it had to be fired in an oxidized atmosphere, giving the white glaze this yellowish hue. The glaze has run on several parts of the base, an effect described by literati as tear marks. The bottom of the pillow has been inscribed with a poem written by the Qian-long Emperor in the spring of 1773.">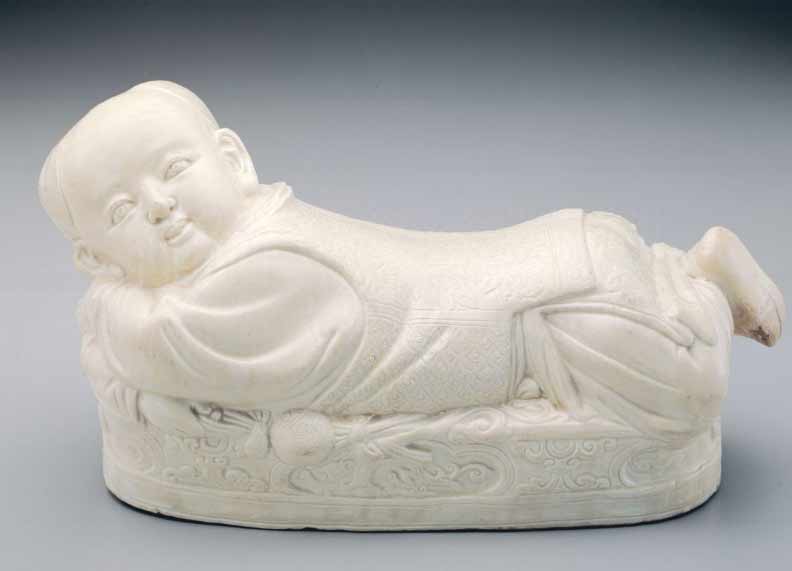 Plum Vase, Northern Song dynasty (960-1127), 11th-12th century; Ding ware
Probably from the Jianci village kilns, Hebei Province, China
Porcelain">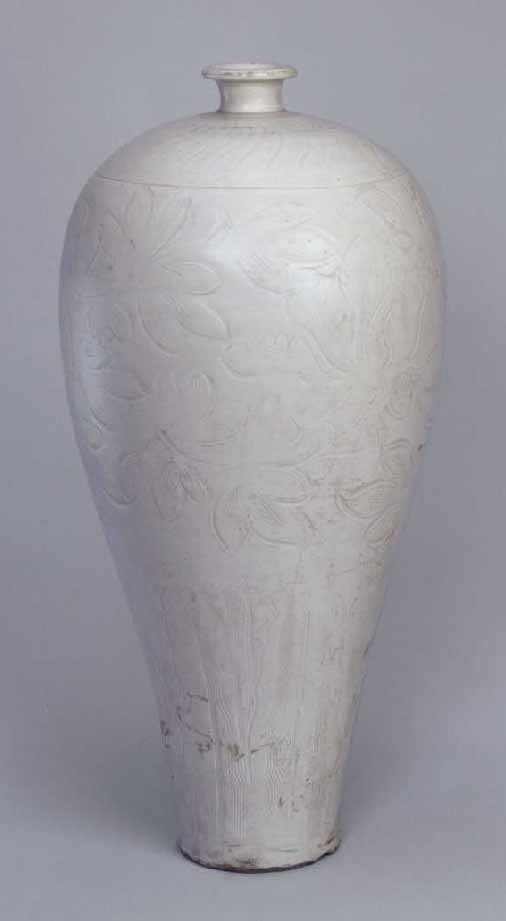 Long-neck Vase, Northern Song dynasty (960-1127), 11th-12th century; Ding ware
Probably from the Jianci village kilns, Hebei Province, China
Porcelain">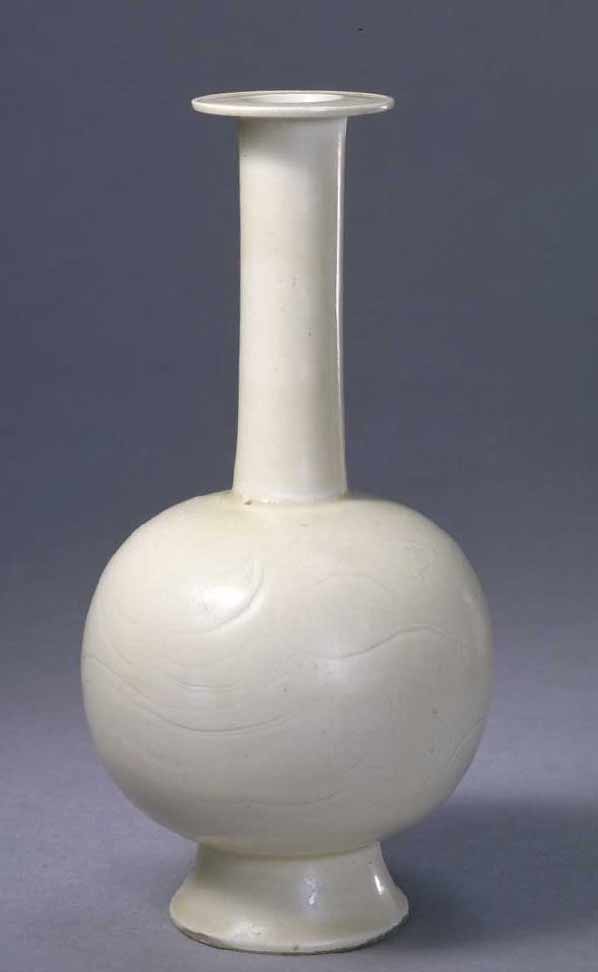 Ding kilns were one of the five renowned kinds of kilns of the Song Dynasty (960-1279) in ancient northern China. Ding ware was mainly white porcelain. The central kiln site was located in Jianci Village in Quyang County of North Chinas Hebei Province. Scientific excavations at Ding kiln sites have shown that the central kiln at Jianci Village covered an area of 1.17 million square meters, manufacturing mainly white porcelain. Meanwhile, it also made porcelain vessels of green, black, and dark brown glazes. A considerable number of vessels were decorated withdragon and phoenix patterns.Plate, Northern Song dynasty (960-1127), 11th-12th century; Ding ware
Probably from the Jianci village kilns, Hebei Province, China
Porcelain"">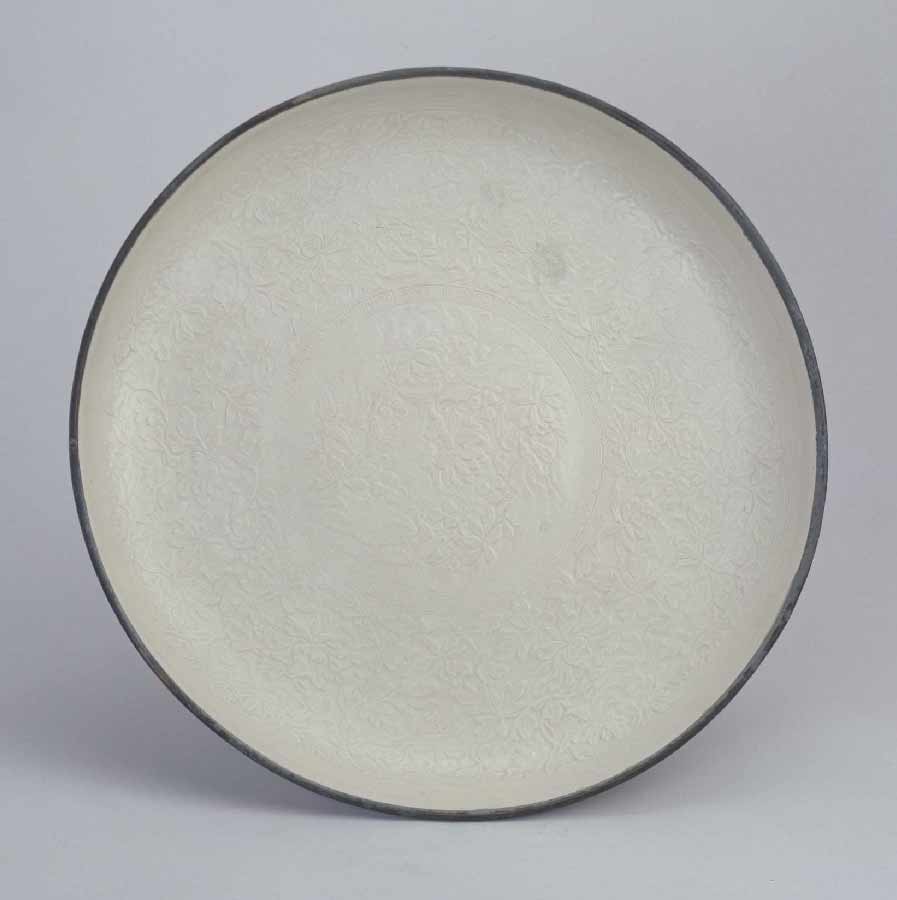 The dragonand phoenix were symbols of the emperor and empress -- the supreme rulers - and only they were qualified to use such vessels, the manufacture of which was mainly for the imperial court. Yet studies have shown that the kilns produced many vessels for the common people, among which were more than a few highly artistic objects. Ding ware was of excellent quality, being made of fine, durable, pure white clay. The body was soft and thin and the vessels were regular in shape and evenly glazed, the glaze containing titanium oxide. Firing turned the white glaze slightly yellow, resulting in a subdued -white ware.
Zha Dou, Northern Song dynasty (960-1127), 11th-12th century; Ding ware
Probably from the Jianci village kilns, Hebei Province, China
Porcelain"">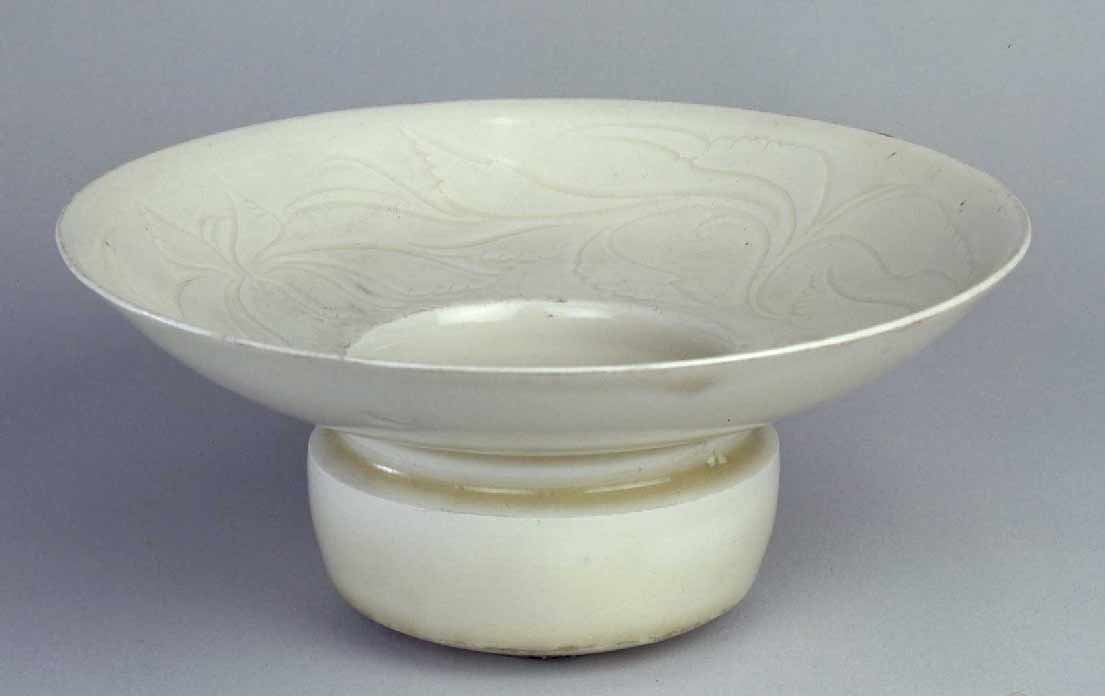 The Ding kilns used the new technique of stacking porcelain vessels on top of each other on a support ring during firing to increase output, again facilitating porcelain production, particularly in the aspect of glazing (as the vessel mouth-rims could not be glazed lest they stuck to the pads between the vessels and became rejects.) Ding mouth-rims were generally unglazed and rough, as described in books of the time. But the royal family, high-ranking officials, and nobles were unwilling to use such vessels, so potters smoothed the mouth-rims with gold, silver, or copper rings, making Ding white porcelain even more costly.
Lidded Pot with dark reddish purple glaze, Northern Song dynasty (960-1127), 11th-12th century; Ding ware
Probably from the Jianci village kilns, Hebei Province, China
Porcelain"">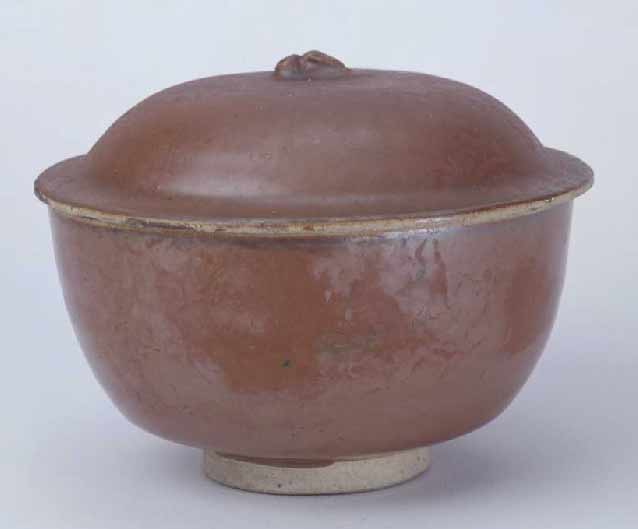 Ding porcelain decoration was applied by incising, engraving and impressing patterns, as well as by molding. Incised patterns were often used for vessels of the early period. Tools shaped like fine bamboo slips were used to incise curves when the clay was fairly dry. Ding ware had the following decorative characteristics: prominent theme, concise, vigorous strokes, and various designs such as plucked twigs of flowers, interlocking flowers, wave patterns, dragons and phoenixes, swimming fish, or a pair of mandarin ducks as symbols of marital harmony. Impressed designs were fairly prevalent on the vessels of late Northern Song. The designs were engraved on the molds and impressed on the vessels in the course of shaping them. They were meticulously arranged and often similar to the designs on silk fabrics that were famous and fashionable at that time. Porcelain vessels of Ding ware were popular and widely valued for their high artistic achievement. Different places vied with one another in imitating Ding techniques, giving rise to several sub-schools of Ding ware. Manufacture continued up to the Jin and Yuan dynasties (1115-1368).


Background knowledge: Art&Culture of Northern and Southern Song DynastyClick here for details

Finches and Bamboo, Northern Song dynasty (960-1127)
Emperor Huizong (Chinese, 1082-1135; r. 1101-25)
Handscroll; ink and color on silk.">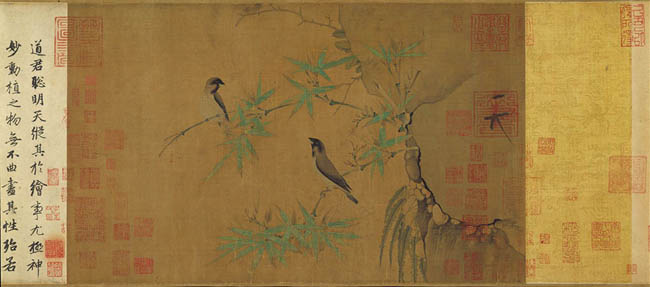 Basin, Northern Song dynasty (960 - 1127), 11th-12th century; Ding ware
Probably from the Jianci village kilns, Hebei Province, China
Porcelain">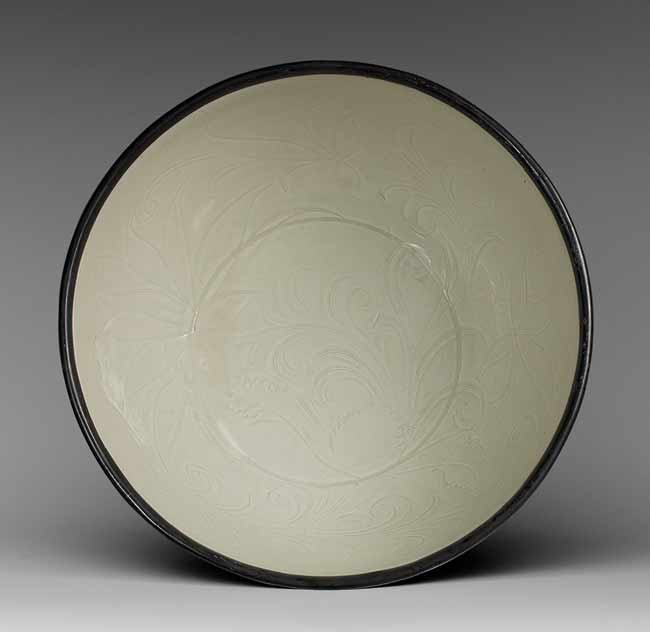 The Song dynasty (960-1279) was culturally the most brilliant era in later imperial Chinese history. A time of great social and economic change, the period in large measure shaped the intellectual and political climate of China down to the twentieth century. The first half of this era, when the capital was located at Bianliang (modern Kaifeng), is known as the Northern Song period.
Ewer, Northern Song dynasty (960-1127), 11th - 12th century; Yaozhou ware
China
Stoneware with incised, carved, and relief decoration under glaze">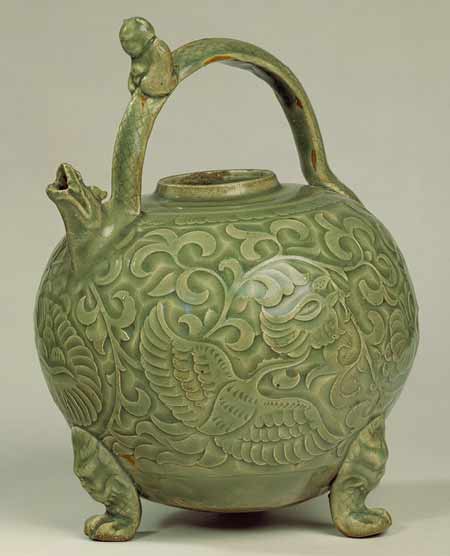 the Northern Song Dynasty
The early Northern Song dynasty witnessed the flowering of one of the supreme artistic expressions of Chinese civilization: monumental landscape painting.
">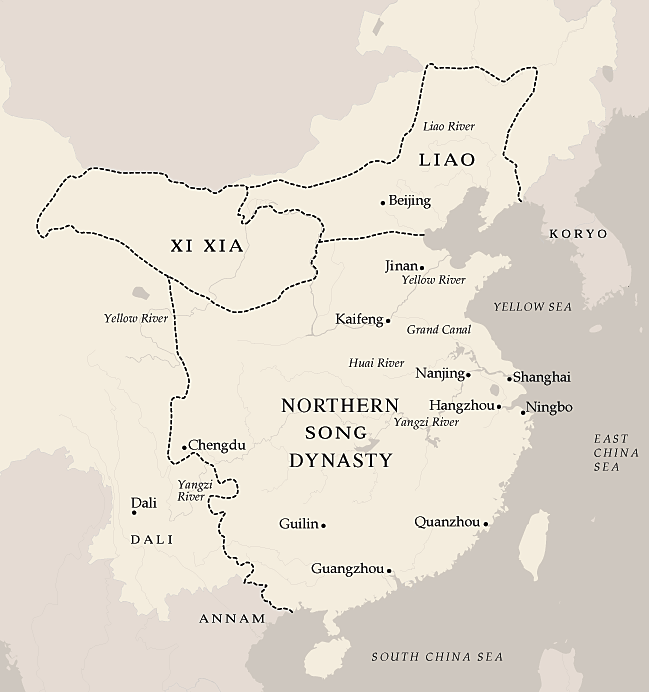 The early Northern Song dynasty witnessed the flowering of one of the supreme artistic expressions of Chinese civilization: monumental landscape painting. Retreating to the mountains to escape the turmoil and destruction that occurred at the end of the Tang dynasty (618-906), tenth-century recluse-painters discovered in nature the moral order that they had found lacking in the human world. In their visionary landscapes, the great mountain, towering above the lesser mountains, trees, and men, was like "a ruler among his subjects, a master among servants." Later, Song court painters transformed these idealized images of nature into emblems of a perfectly ordered state.
Pillow, late Northern Song to Jin dynasty, 12th-13th century; Cizhou ware
Hebei Province, China
Stoneware with pigment">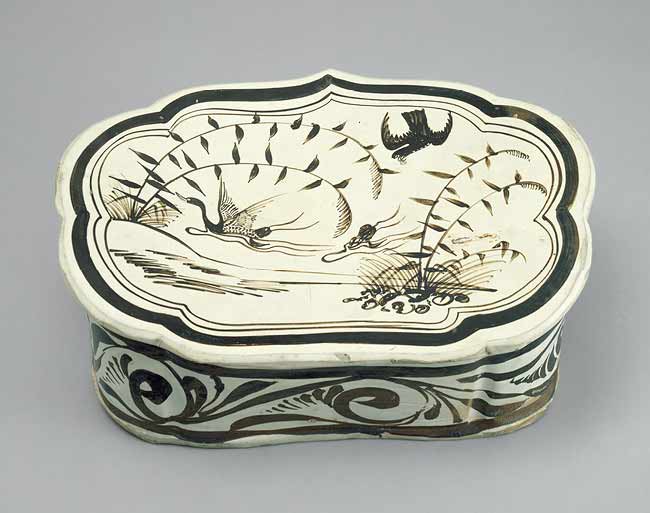 An important outgrowth of Song political unification after the war-torn Five Dynasties period (907-60) was the creation of a distinctive style of court painting under the auspices of the Imperial Painting Academy. Painters from all parts of the empire were recruited to serve the needs of the court. Over time, the varied traditions represented by this diverse group of artists were welded together into a harmonious Song academic manner that valued a naturalistic, closely descriptive portrayal of the physical world. Under Emperor Huizong (r. 1101-25), himself an accomplished painter and calligrapher, imperial patronage and the rulers direct involvement in establishing artistic direction reached a zenith. While maintaining that the fundamental purpose of painting was to be true to nature, Huizong sought to enrich its content through the inclusion of poetic resonance and references to antique styles.
Tea bowl, Song dynasty, 960-1279; Jian ware
Fujian Province, China
Stoneware with hares-fur glaze">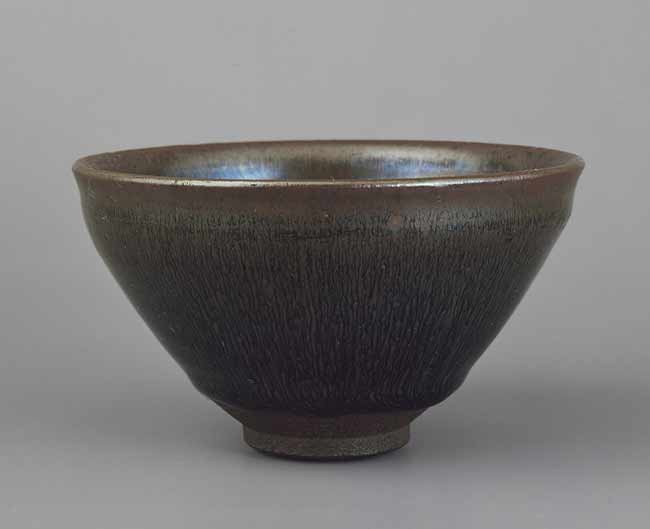 The momentous political shift during the early Song - from a society ruled by a hereditary aristocratic order to a society governed by a central bureaucracy of scholar - officials chosen through the civil-service examination - also had a major impact on the arts.Silver service, Song dynasty (960-1279), 11th-13th century
China
Silver with gilding">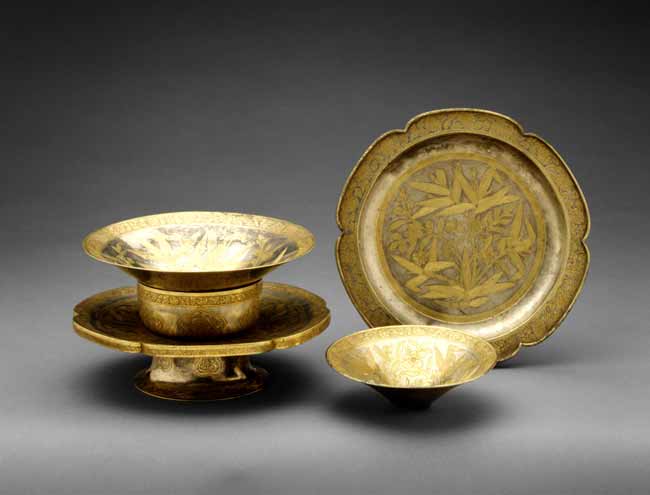 As a ruling elite, these Neo-Confucian scholars regarded public service as their principal calling, but factional strife sometimes forced them to retire from political engagement, during which time they often pursued artistic interests. Dissatisfied with the rigidity and oversophistication of early Northern Song calligraphy, eleventh-century scholars sought to revive the natural, spontaneous qualities of more archaic models. The literati also applied their new critical standards to painting. Rejecting the highly realistic descriptive style followed by the professional painters of the Imperial Painting Academy, they also departed from the official view that art must serve the state. Instead, the amateur scholar-artist pursued painting and calligraphy for his own amusement as a forum of personal expression.
In 1125, when the Jurchen, a seminomadic people from northeast Asia, invaded Song China and captured the capital at Bianliang (modern Kaifeng), founding their own Jin dynasty in the north, the Song court reestablished itself in the south in Hangzhou, where it continued to rule for another 150 years as the Southern Song dynasty.
Dish, Southern Song dynasty (1127-1279), 12th-13th century; Guan ware
From the Hangzhou kilns, Zhejiang Province, China
Porcelaneous stoneware with crackled blue glaze">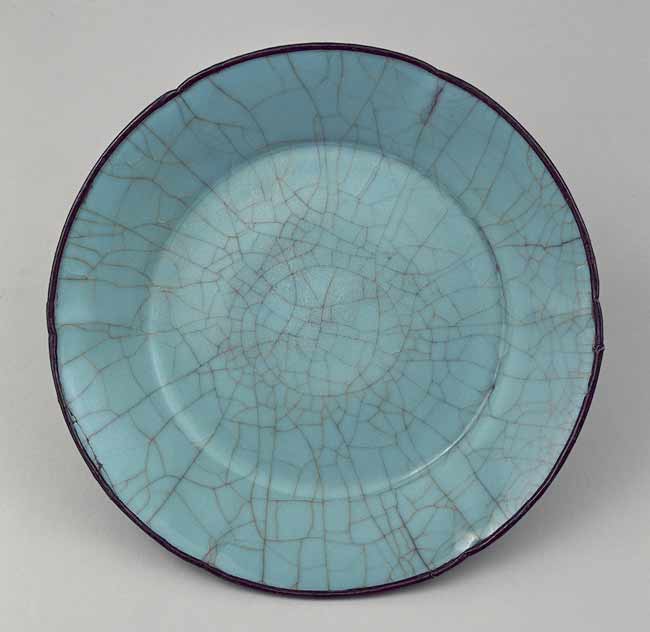 Vase, Southern Song dynasty (1127-1279), 12th-13th century; Longquan ware
China, Possibly from the Dayao kilns, Zhejiang Province
Porcelaneous stoneware with relief decoration under celadon glaze">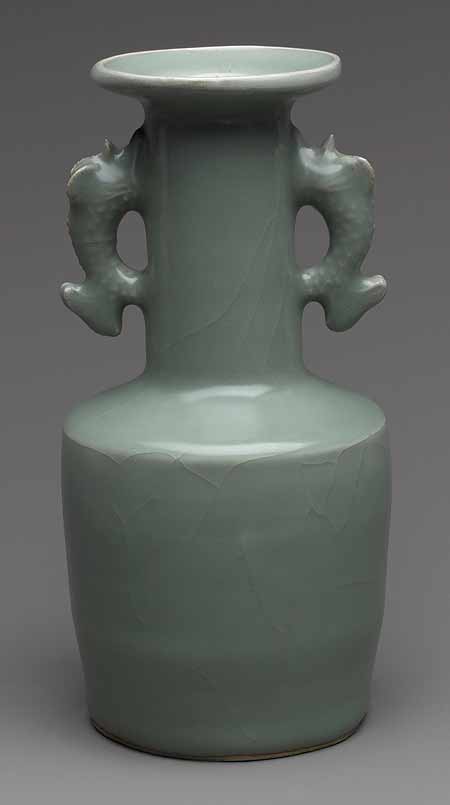 Southern Song society was characterized by the pursuit of a highly aestheticized way of life, and paintings of the period often focus on evanescent pleasures and the transience of beauty. Images evoke poetic ideas that appeal to the senses or capture the fleeting qualities of a moment in time. One particularly important source of inspiration for Southern Song artists was the natural beauty of Hangzhou and its environs, especially West Lake, a famed scenic spot ringed with lush mountains and dotted with palaces, private gardens, and Buddhist temples.

the Southern Song Dynasty
The decorative arts reached the height of elegance and technical perfection during the Southern Song.">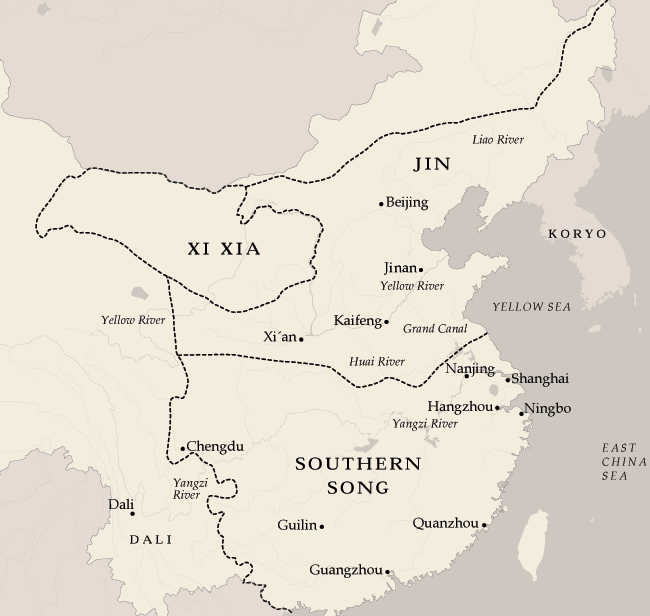 The Southern Song Imperial Painting Academy continued the stylistic direction and high technical standards established by Emperor Huizong in the early twelfth century. Dish, Southern Song dynasty (1127-1279), 12th-13th century; Ge ware
China
Porcelaneous stoneware with crackled yellow glaze">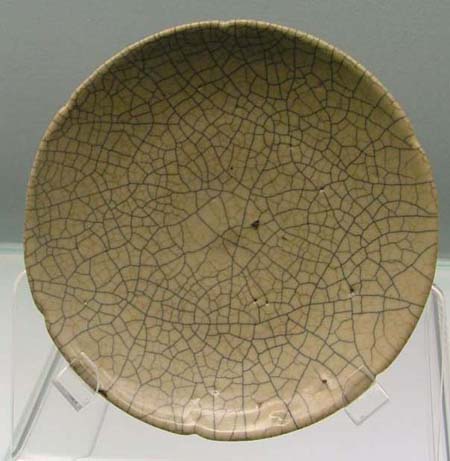 Often executed in the intimate oval fan or album-leaf format, academic paintings - and the imperially inscribed poems that sometimes accompany them - reveal an increasingly narrow, concentrated vision and a commitment to the exact rendering of an object. The cultivation of a tranquil and detached mind free of material entanglements was a common concern of Song Neo-Confucian philosopher Zhu Xi (1130 - 1200): the "investigation of things leading to the extension of knowledge."
Flower Planter, Southern Song dynasty (1127-1279), 12th-13th century; Jun ware
China
Porcelaneous stoneware with azure and grape purple glaze">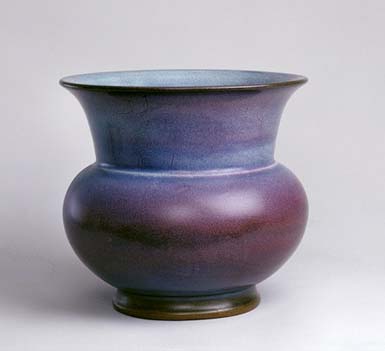 Narcissus planter with greenish-blue glaze
Northern Song Ru Ware
Height: 6.1 cm, Depth: 3.8 cm, Rim width: 15.8 cm,
Rim length: 23.1 cm, Bottom width: 13 cm, Bottom length: 19.5 cm
Judging from an oval spurred firing tool that appears to have been designed specifically for firing narcissus planters (excavated from the Ru kiln site at the Ching-liang Temple at Pao-feng county in Honan province), narcissus planters were probably fired in the so-called central kiln area. Most surviving narcissus planters have six spur marks on the bottom. This piece, perhaps slipping during the firing process or for some other unknown reason, has only five spur marks remaining, forming a feature of its firing quite different from others.">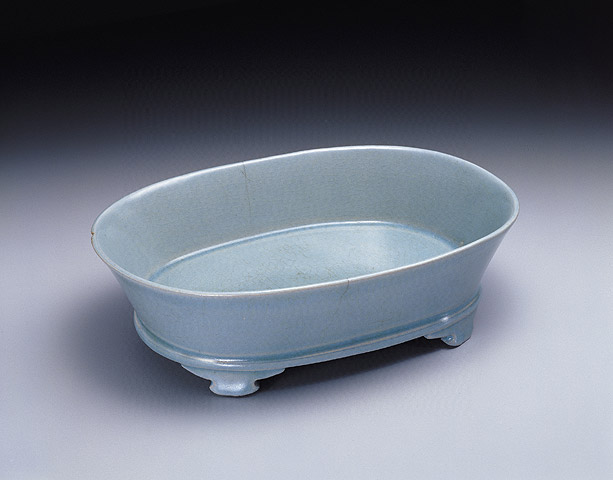 The decorative arts also reached the height of elegance and technical perfection during the Southern Song. Like painting, the plastic arts responded to two different aesthetics - that of the imperial court and that of popular culture. Supreme among the decorative arts of the Song period are ceramics, which many connoisseurs consider the highest artistic achievement of the Chinese potter.
Payment
we accept PayPal, if youd like to use other payment way please contact with us. we will send out your purcahses only after your personal check be cleared if you use personal check.
Store Terms and Return Policy
1. item be damaged during transportation, we strongly encourage you to inspect freight at the time of delivery or pickup for any damage. If you detect damage refuse the freight as damaged. In that way you get full refund smoothly!
2. item be found damaged when you open the package after you take package home or the postman has left your home with your signature on receipt, please contact with us ASAP, you have three days to take photograph of the damaged item and inform me about this by email, over this time limit we wont give any refund.
3. package be verified to be lost during transportation by USPS, you will get full refund.
4. package be returned to us because of any our error or any error from Postal Office, the pacakge will be free resent to you.
5. package be returned to me because of any your error such as wrong shipping address or no people at home over two weeks or you dont pick up the package in time after the postman leave one note at your mail box. you will have to pay the resending shipping cost.
6. 30 day money back:we will gladly exchange, credit or refund your purchase from us if returned within 30 days of the end of sale. To return, one returning shipping address will be provided, you will have to pay return shipping and the item must be returned in its original condition. please mail via insured package service. Also allow 2 weeks for refunding processing.
100% satisfaction guaranteed and Feedback
1. As a responsible eBay Seller, we guarantee our customers 100% satisfaction for your ebay transaction with us, please NOT open one case before you email us, we strive for positive feedback on all transactions and nothing less than an overall Detailed Seller Rating (DSR) of 5. If you are considering giving a neutral or negative Feedback or a low DSR, do write to me and give me an opportunity to address your concerns first.2. After payment is received, I will leave positive 5 star feedback to you. You may think that you are leaving a reasonable rating by giving a seller DSRs of 4****s, but eBays feedback system treats anything less than a 5*****s as sub-standard and penalizes sellers for DSR ratings that average under 5.00. Which means it counts against me on my feedback score.3. Please dont leave 1* or 2* star,because 1* or 2* = Negative Feedback.
Add to Favorites seller listReceive email newsletterView Sellers FeedbackVisit sellers eBay Shop


Powered by eBay Turbo Lister
The free listing tool. List your items fast and easy and manage your active items.
Contact Us
PIONEER GARLIC GROUP

Email

manager@pioneergarlic.com

Address

JINXIANG COUNTY. JINING .SHANDONG.CHINA

Phone(Working Time)

86-15562397099

Fax

86-0537-7201661